As Salaam Alakum...my name is FAISON 19X MOAMIN aka fayz or RED.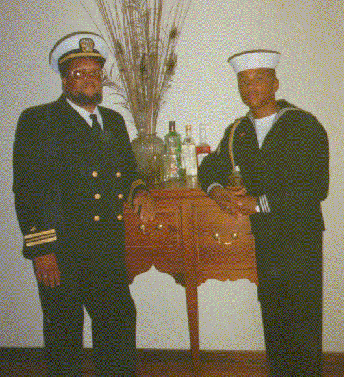 Thats me and pops ( me on tha right )
I am now 27.....
I did six years in the Navy , on two carriers Nimitz, and Eisenhower,( i first, woke up and was raised from the dead level, and found knowledge of self, as well as overstanding about 3 months AFTER signing them govt papers..daaammmmm.. ..)
I was married for 5 years To a lady named LaWanda Gilmore, whom I meet in N. Chicago. I am seperated now.
I relocated from Washington State to Virginia.
We have two seedz, one lives with me the other with her.
man o man i wish i knew then , what i know now... but we all gotta learn and start our foundations somewhere.......
.....I am now working as a full-time Computer Technician for my college ..........Academic specialties are ISLAM ..... HIStorY .( ancient and Islamic)......and Biblical studies.... i

.As far as the music scene goes... Billy Holiday, Bob, Mutaburaka, Jacob Miller, Lee (scratch) Perry, Abysinians, Gladiators, Aretha Franlkin, John l. Hooker, Lightnin Hopkins, and lots others...a few hip hop artists I can roll with, but definetly not on tha regular..
Oh yeah I got little respect for the English Language (although i have a Mastery of it )... so if ya wanna dog me out for my grammar or typing.. ya aint seeing waht Im saying.. I put this spot here not for grammar review, just building. i aint English!



This page hosted by
Get your own Free Home Page